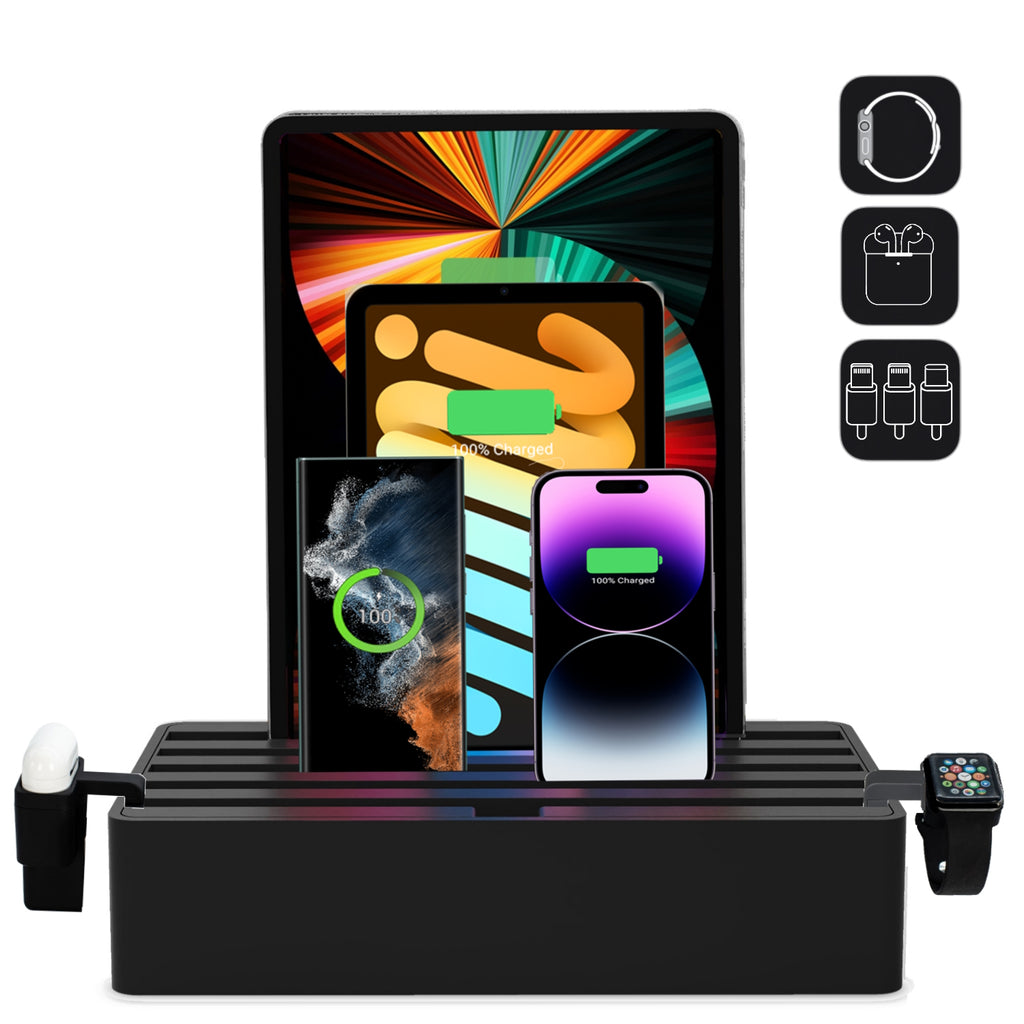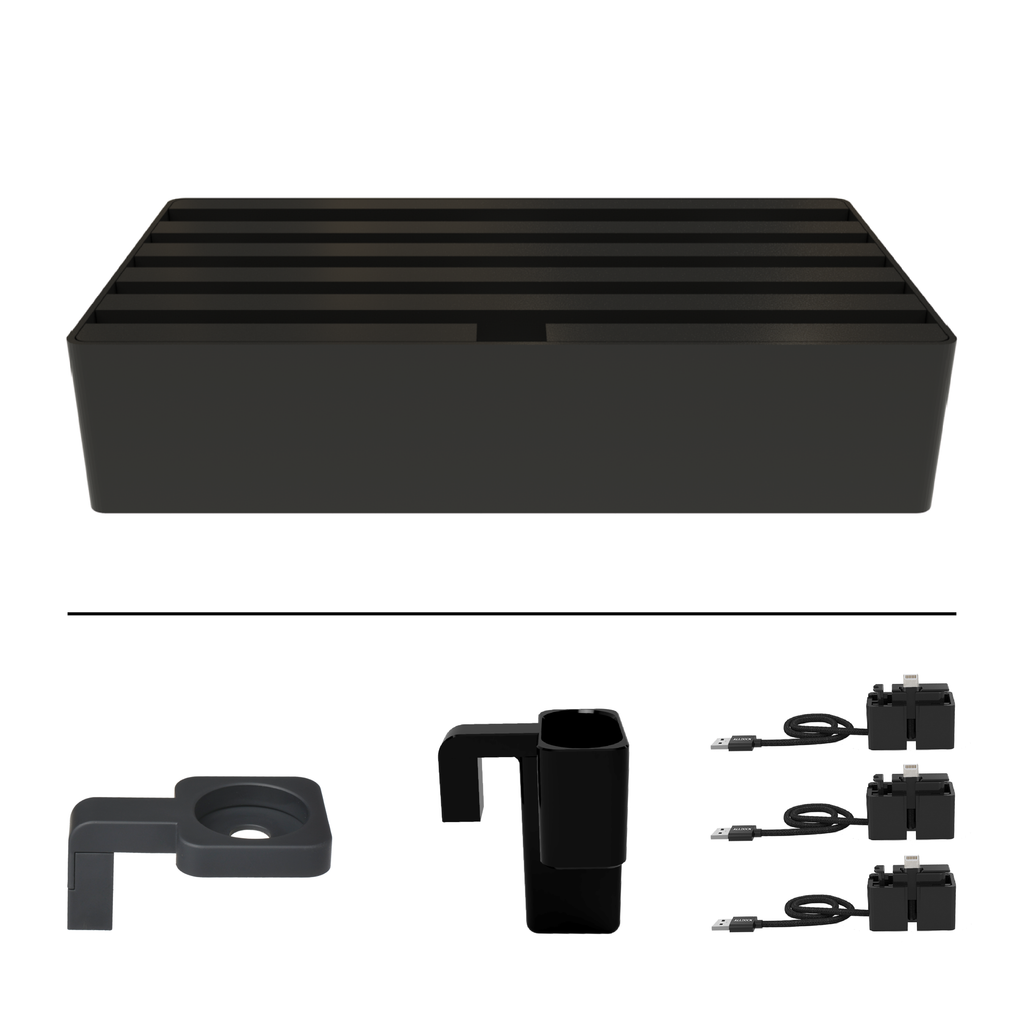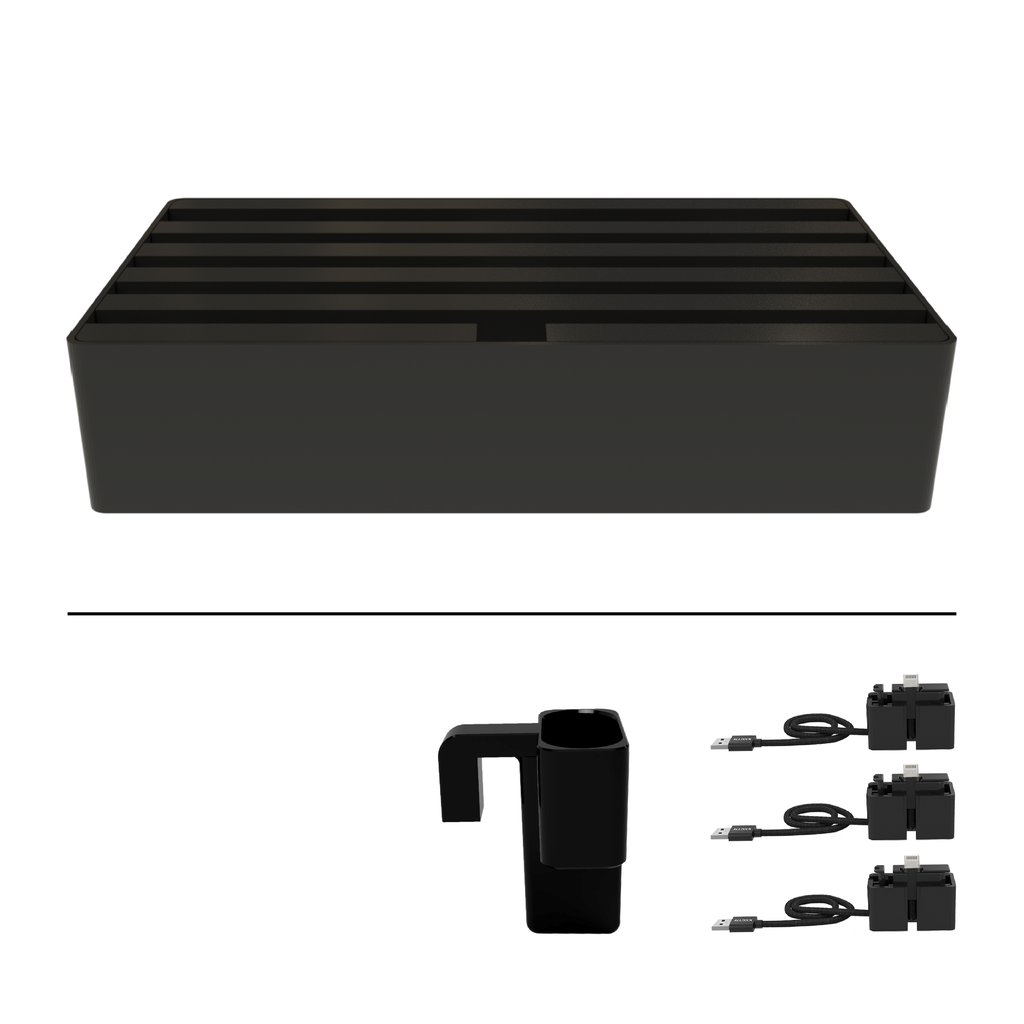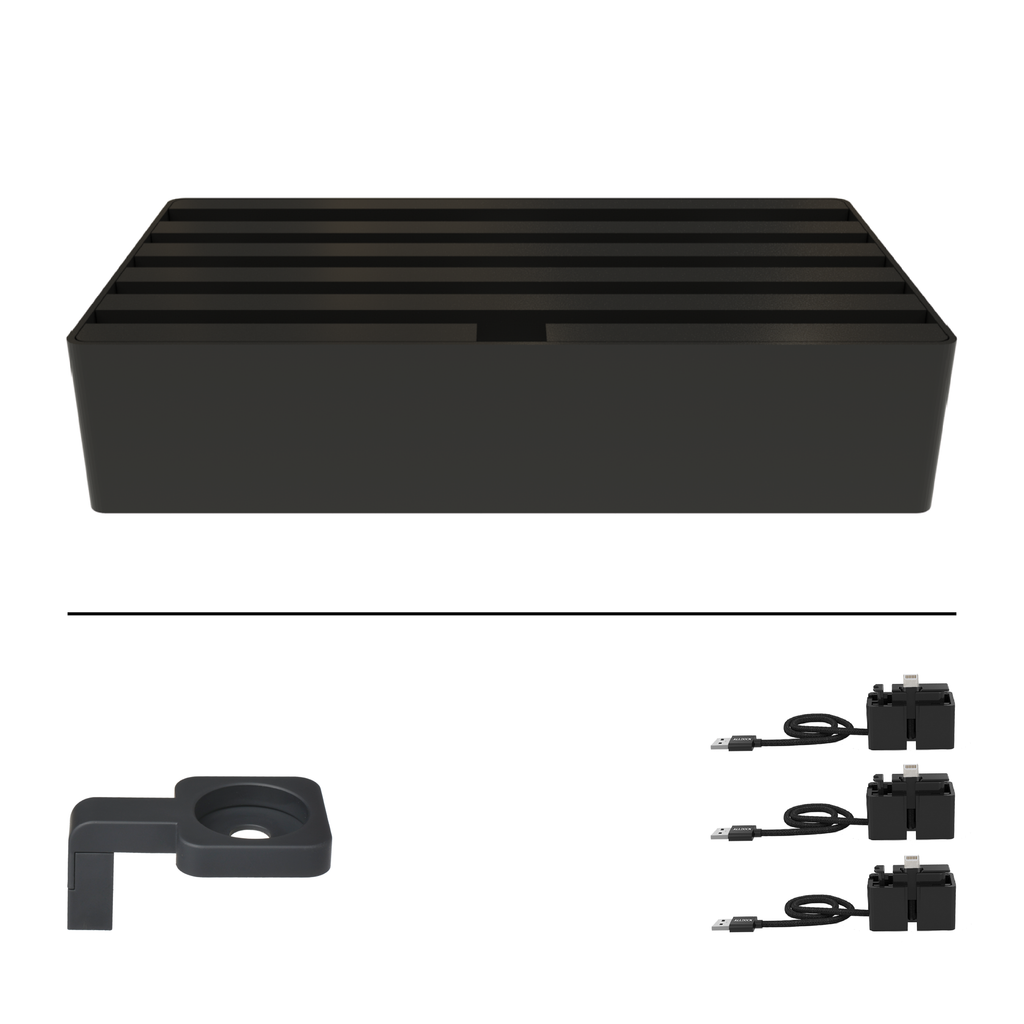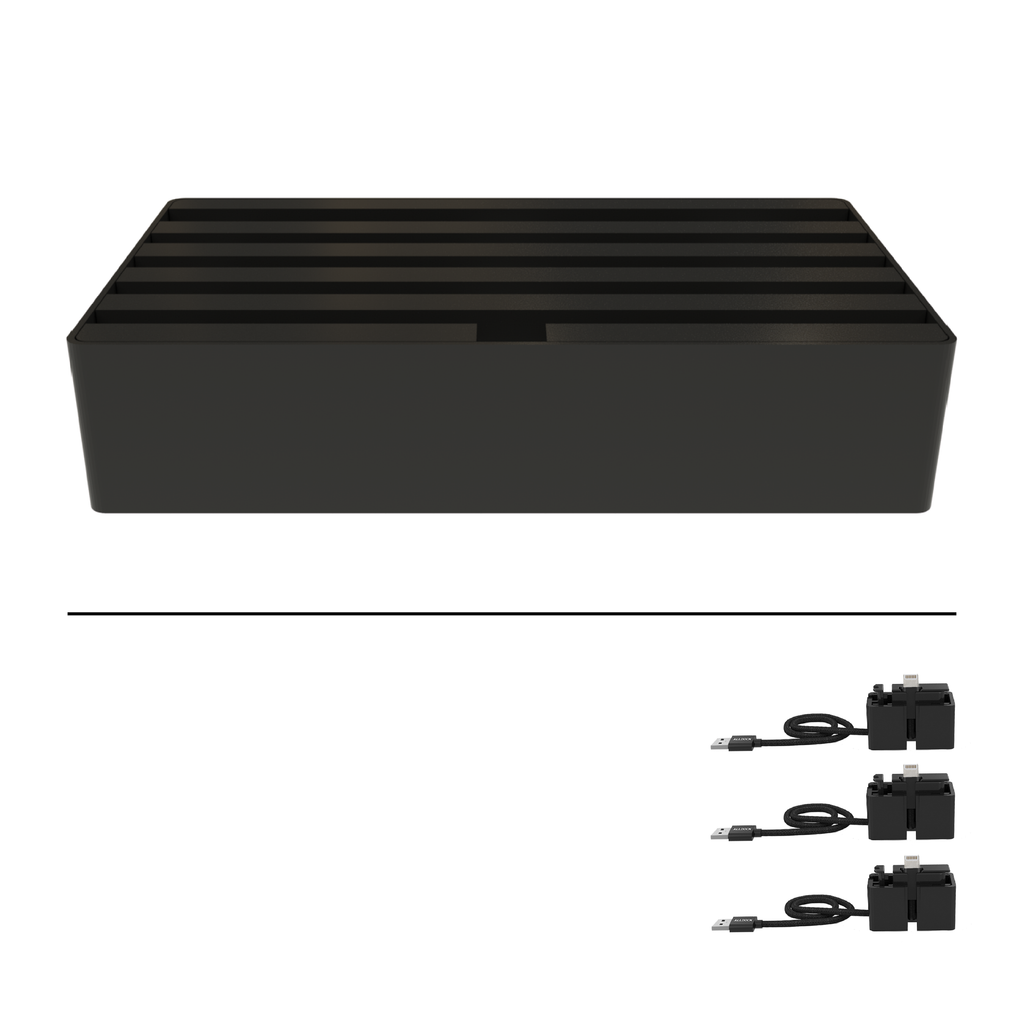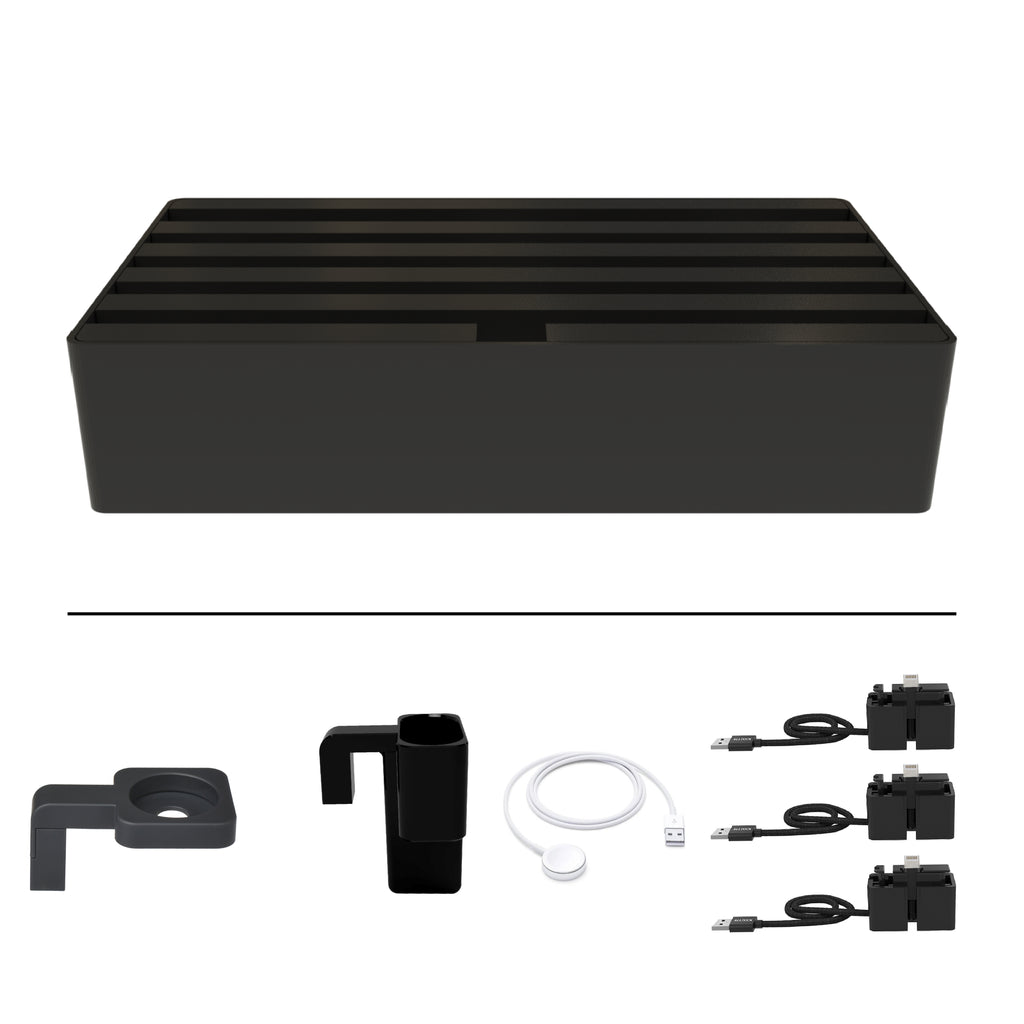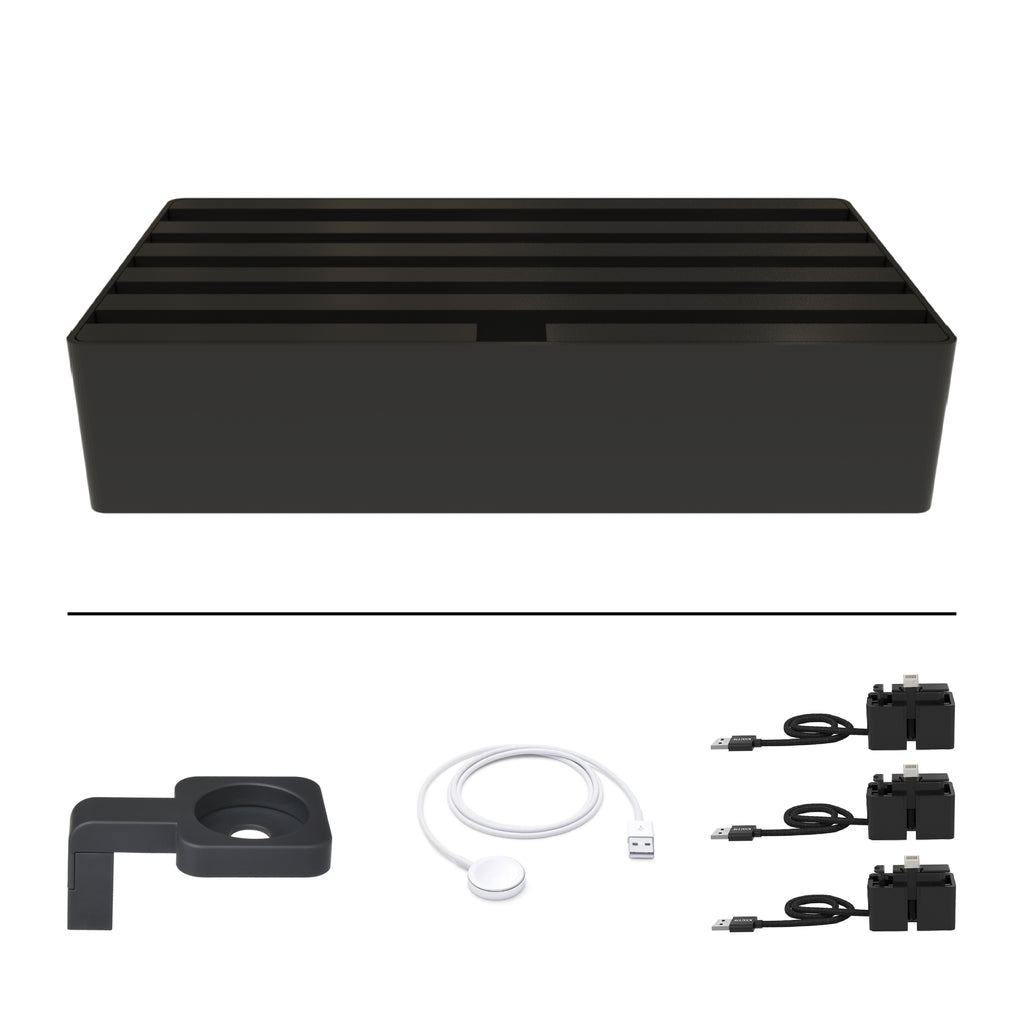 ALLDOCK Classic FAMILY Black Package
---
Universal 6 port USB charger for smartphones and tablets

Your whole family has collected countless electronic devices? Of course, the smartphones, tablets, laptops and other devices need to be charged constantly, but please do it quickly and effectively. With ALLDOCK, you can benefit not only from the latest Power Delivery technology, but also from the functional design. ALLDOCK makes unbearably slow charging and the associated cable clutter disappear.
The ALLDOCK Classic Family Black is a charger and docking station in one. The design is timelessly beautiful and all charging cables are hidden inside the ALLDOCK. Even large tablets can be docked and charged safely. In addition, the 6-port charger can be expanded with additional charging cables.
Each ALLDOCK charging station is ready to charge immediately, can be converted, expanded and also upgraded in the future. Simply and your cables, expand with original accessories or always upgrade with more modern components in the future.


Save on the package deal
x 1 Large ALLDOCK (5 Rails & 6 USB Ports)
x 3 One Hand Docking Adaptor Cables (Apple/Android)
x 1 Apple Watch Mount / Watch Cable (Optional)
x 1 Apple AirPod Mount (Optional - Compatible AirPod Gen 1 & 2)
ALLDOCK SPECIFICATIONS
Outer Case Large: 320 x 176 x 70mm
Number of Docking Rails - 5
Docking Rail Width: Front 4 - 14mm (Please check your cases) Back Rail - 18mm (Built for cases)
6 Port USB Charger Input: AC 110V-240V 50-60Hz1.5A
CERTIFIED FOR AUSTRALASIAN POWER REQUIREMENTS (RCM Tick)
Single Output: DC Max 5V/2.4A
Total Output: DC Max 5V/14.4A
Love this item
Prompt delivery, easy to setup, and looks great in the kitchen. Highly recommend this charging dock
Alldock
I have bought 3 One for me one for my daughter grandson. We all love them
Large Black Alldock
It has tidied up our area where we charge everything, but we have found a number of items because of the cases don't fit and sit off to the side. We have been using the longer cords, not the docking one as they are easy to attach.
Stylish product with a purpose...
I must say that I was very excited receiving my Alldock charging station several months back and I am - for the most part - impressed with the design and quality of the product. The dock charges all of my tech devices and alleviates the dreaded charging mess of having charging cables everywhere. My only issues with the Alldock is that the width between the grill (where your devices are placed in to charge) are mostly too narrow, in particular if you have a protective cover for an ipad or iphone. Unfortunately, there was no option in ordering them in a wider format to accomodate for that reality. Other than that, I would purchase again
Charge your Apple watch up to 6 times on the go!
Check out our portable charging solution for your Apple Watch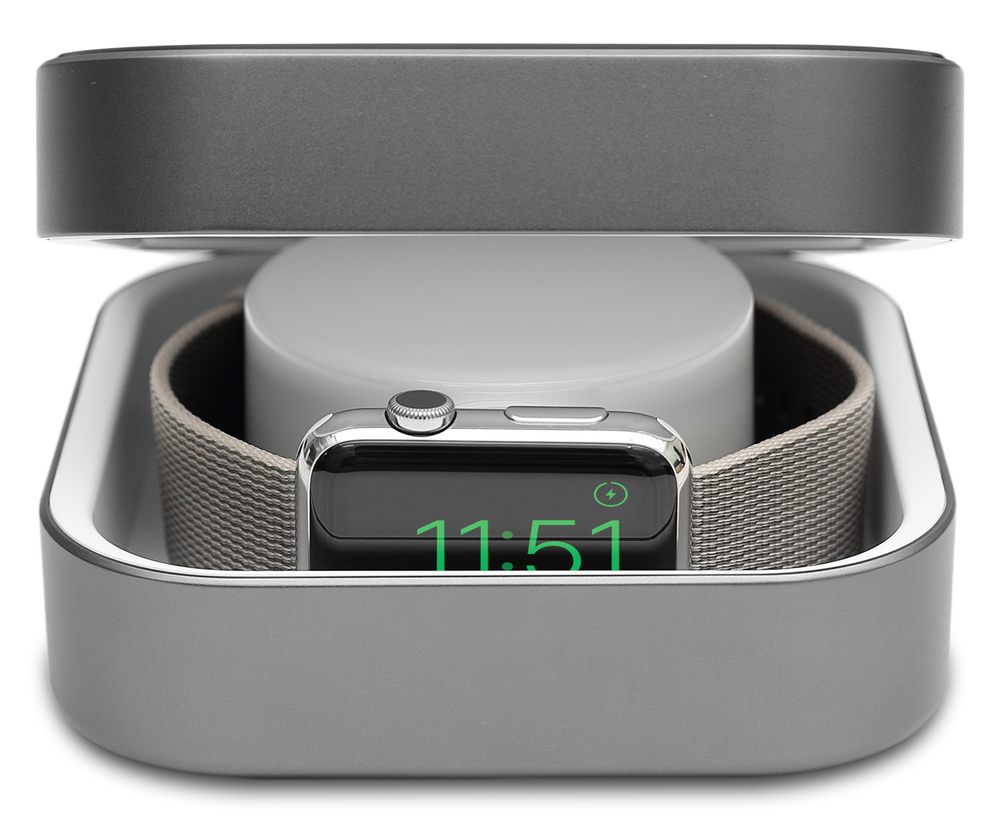 Shop Now