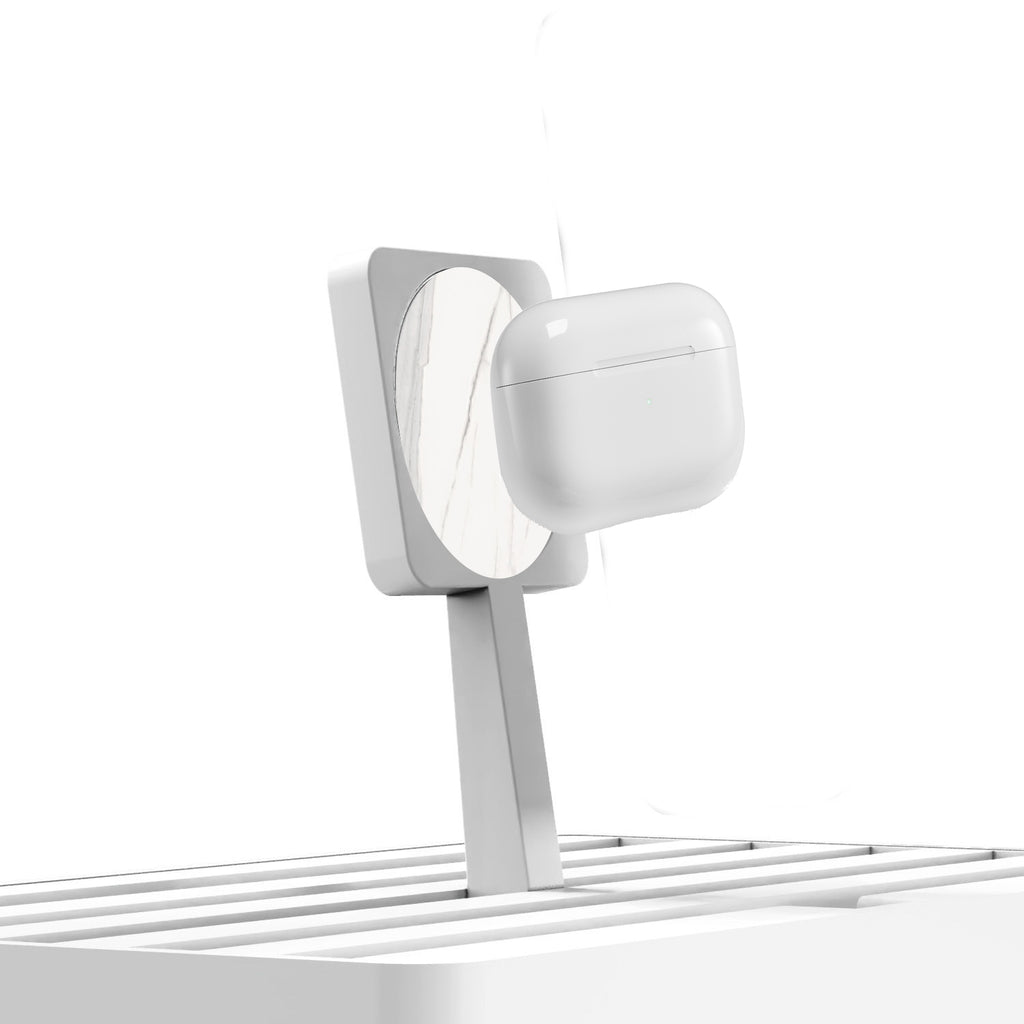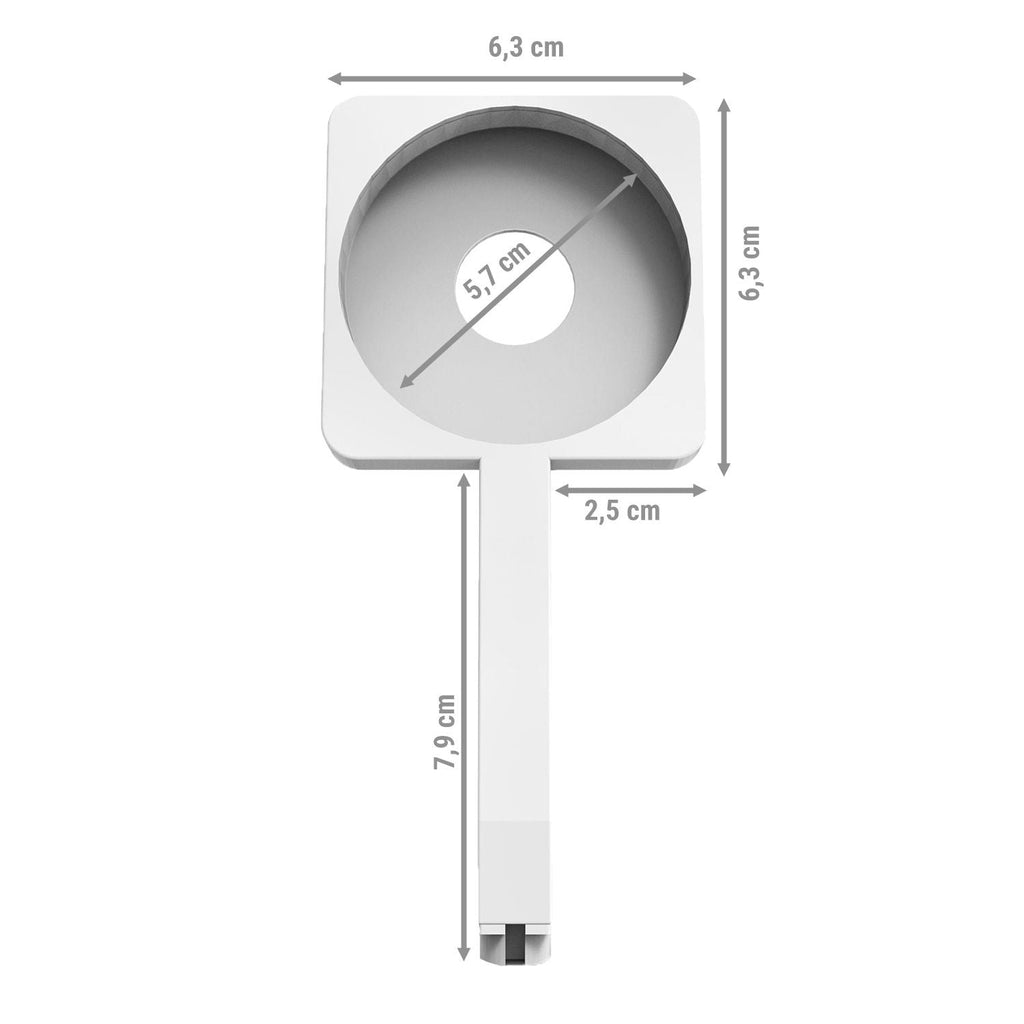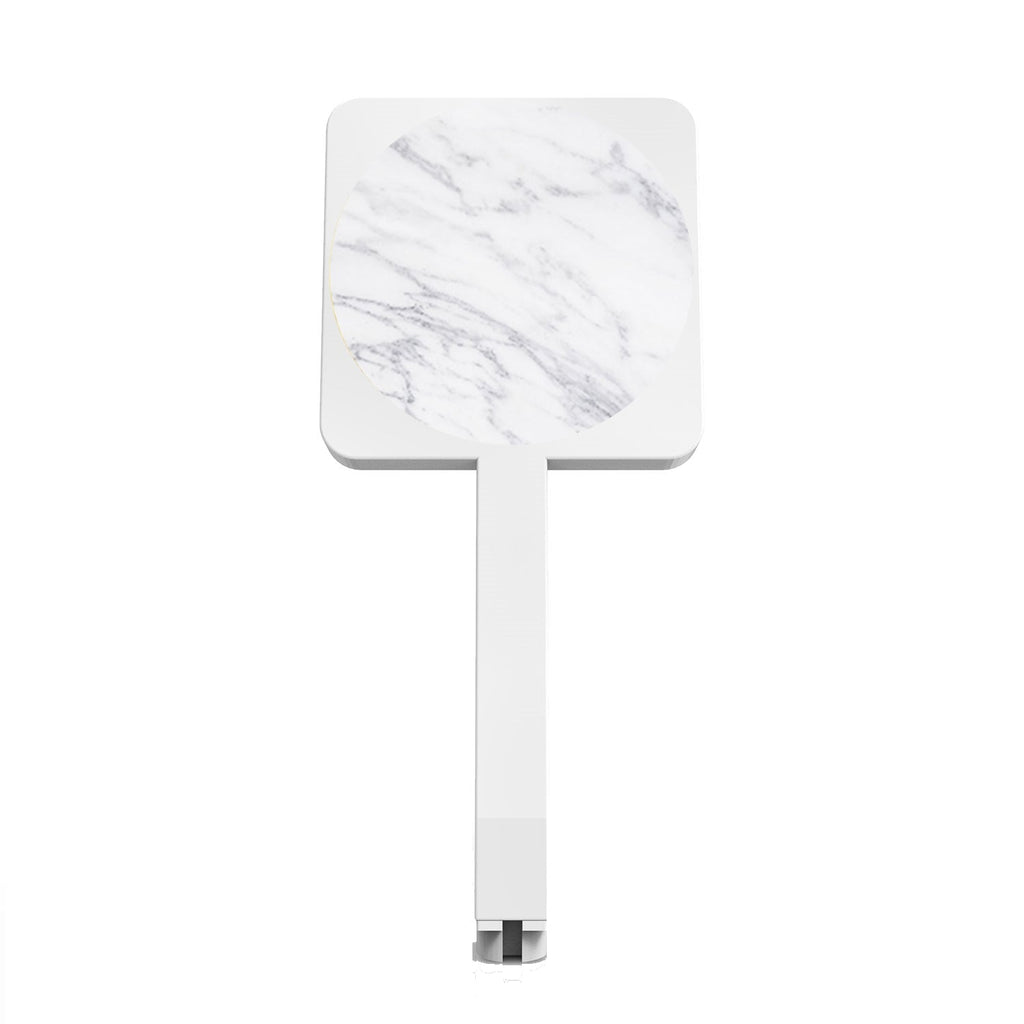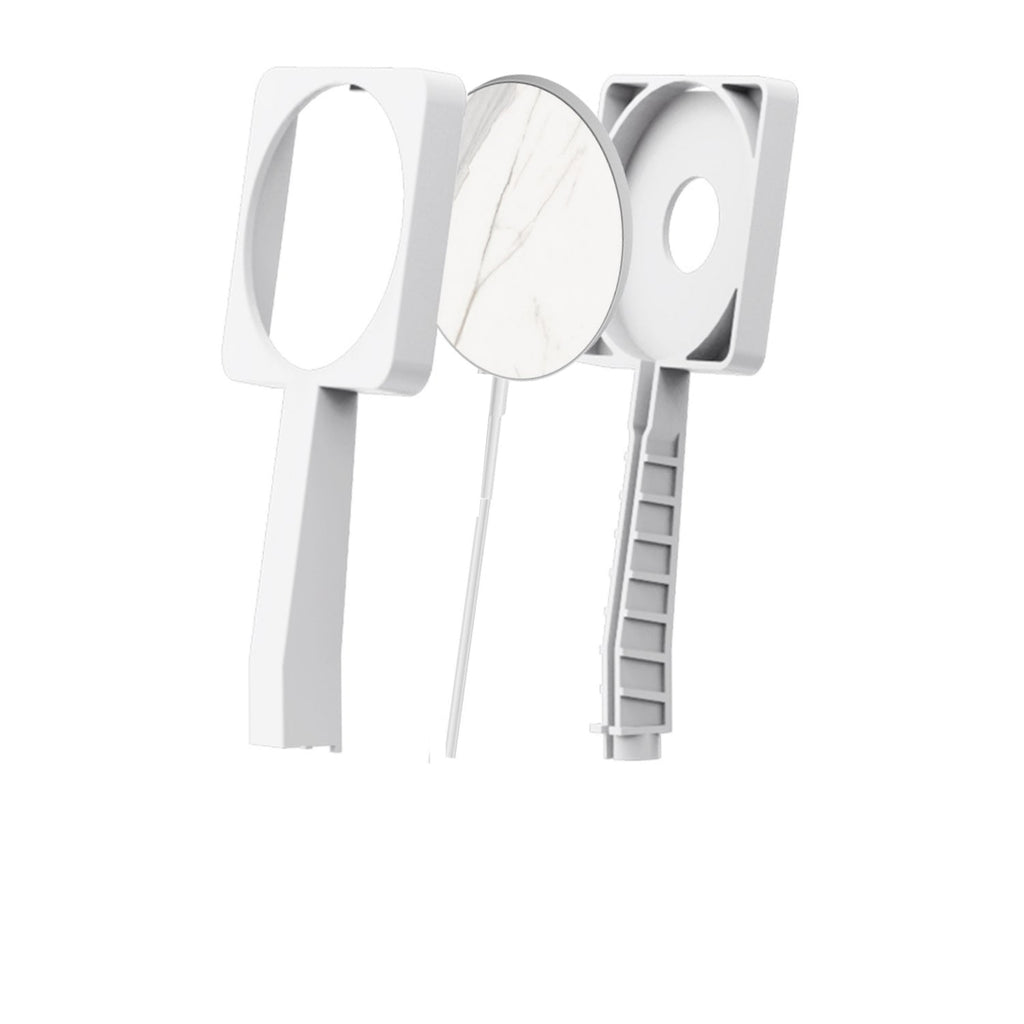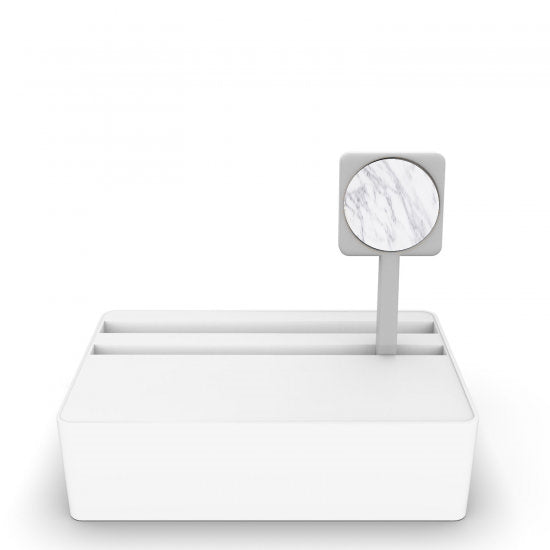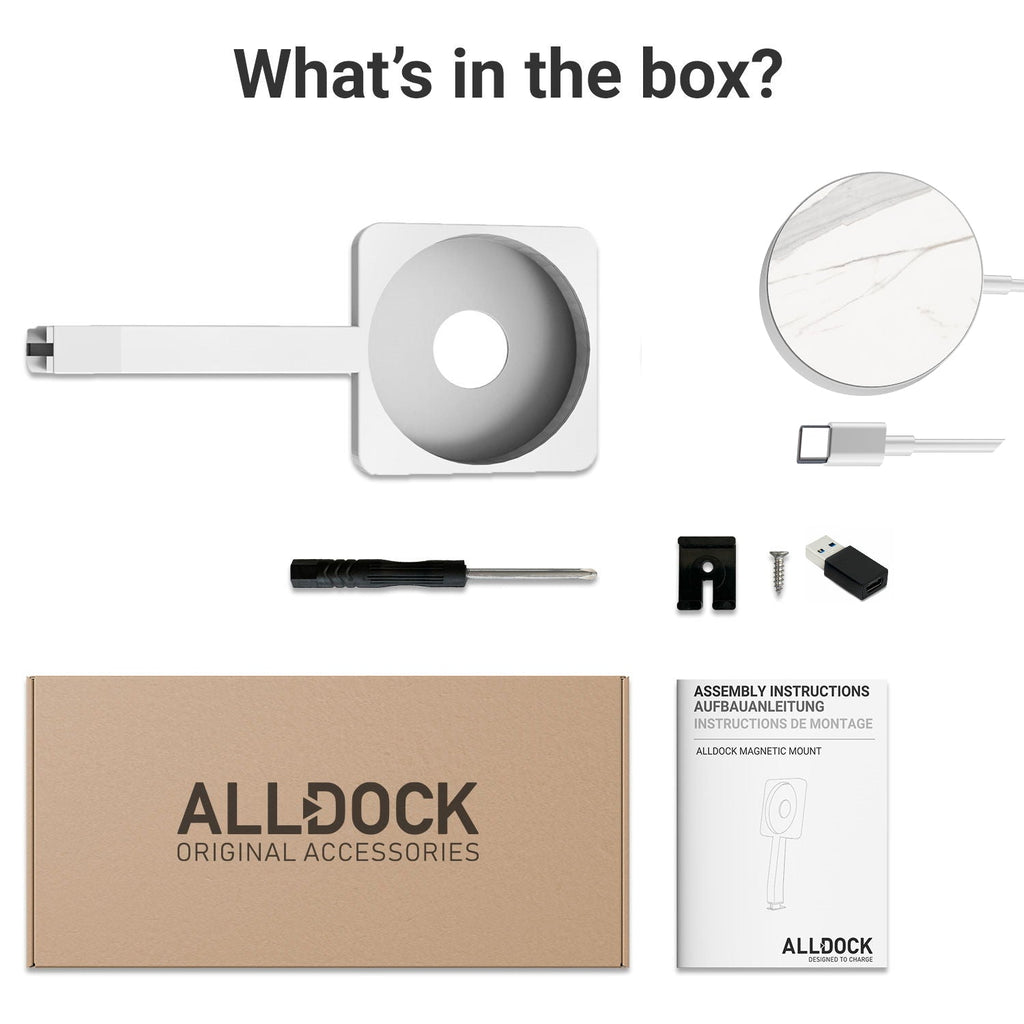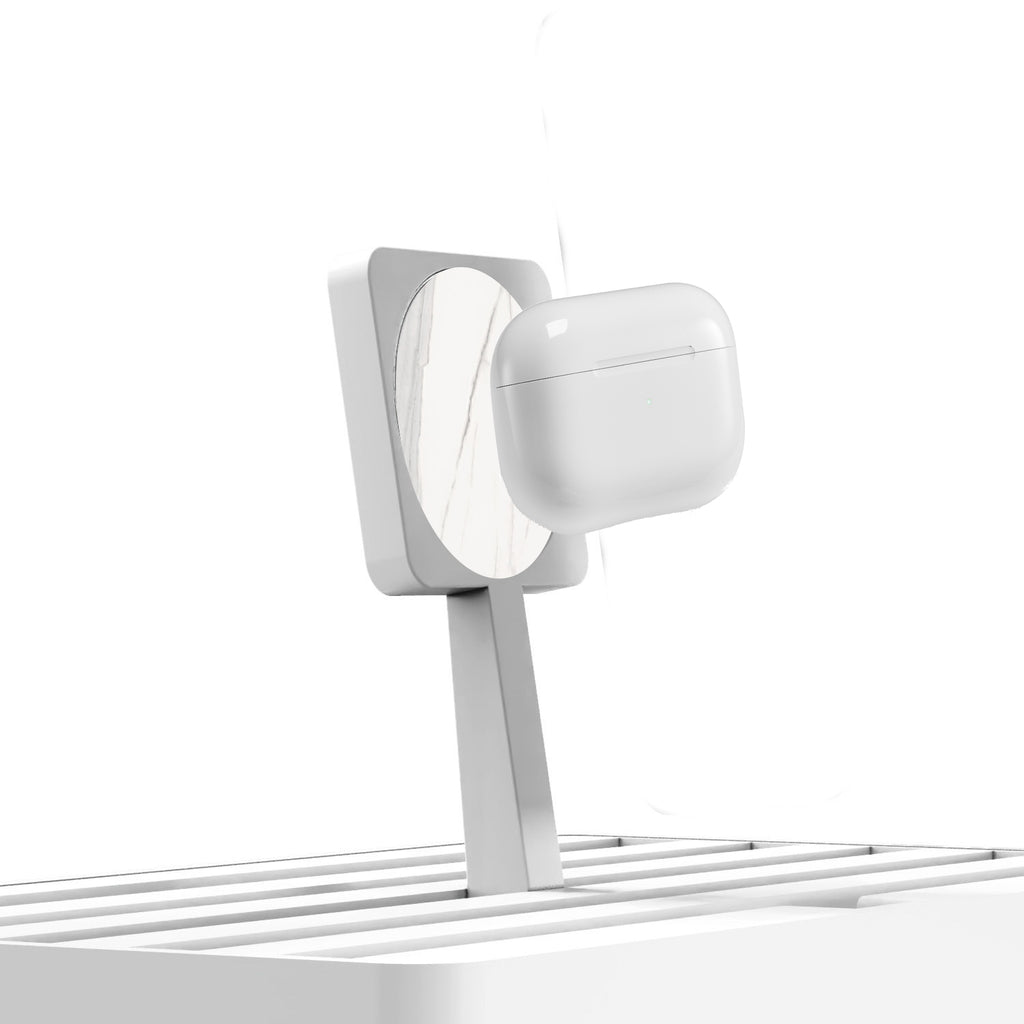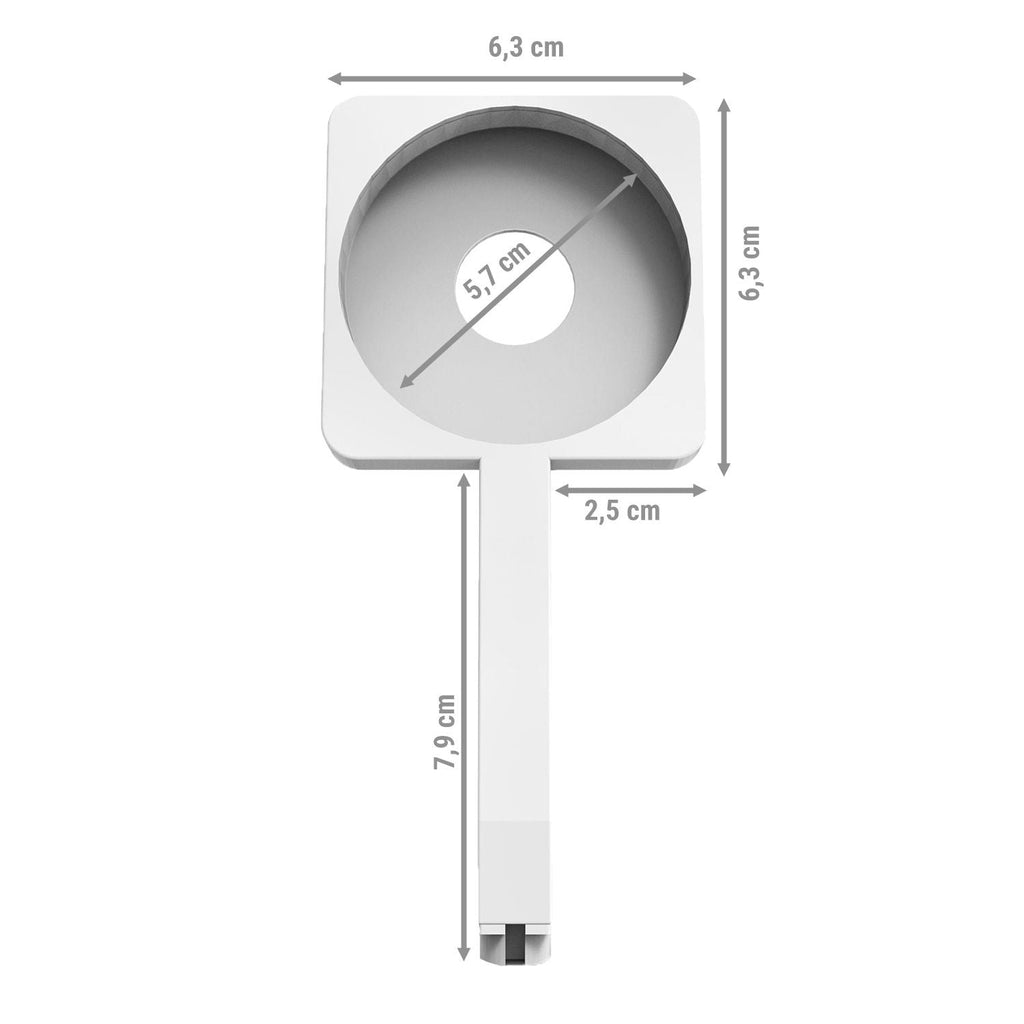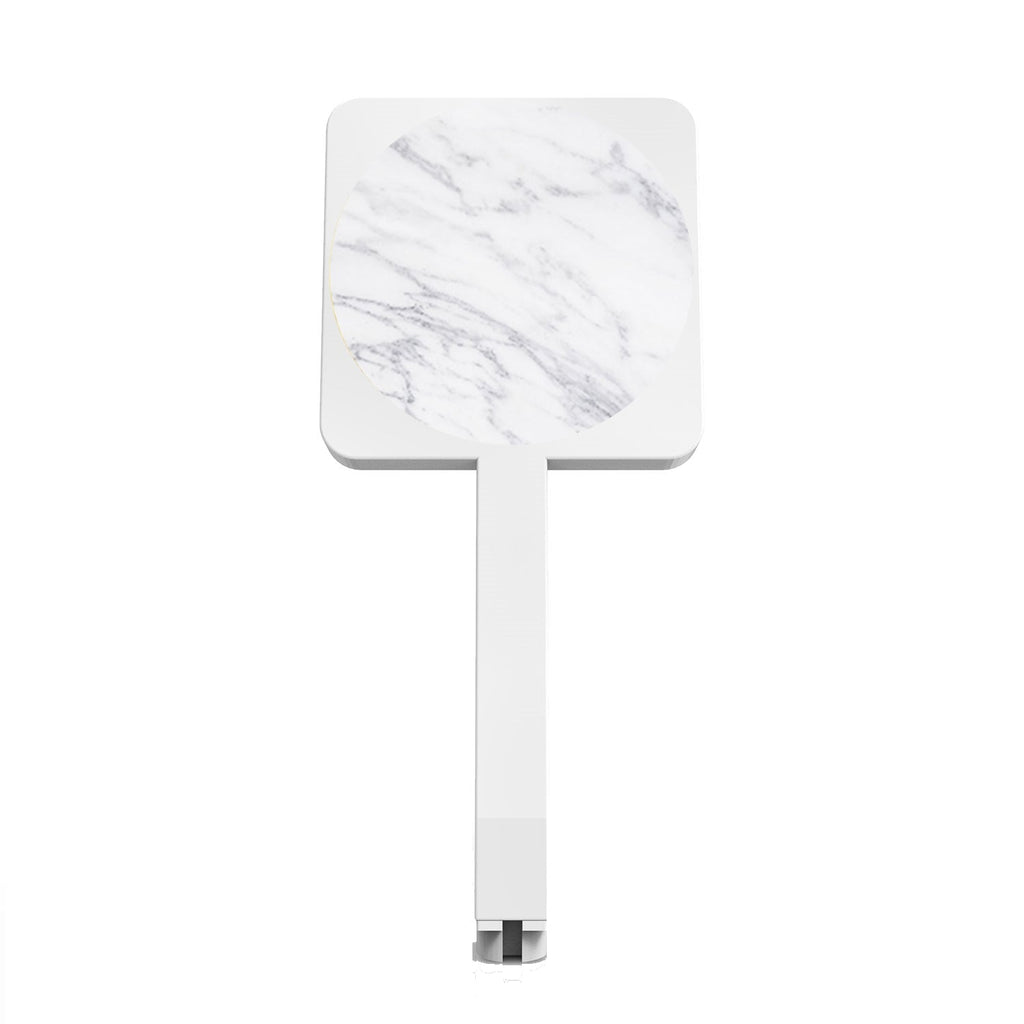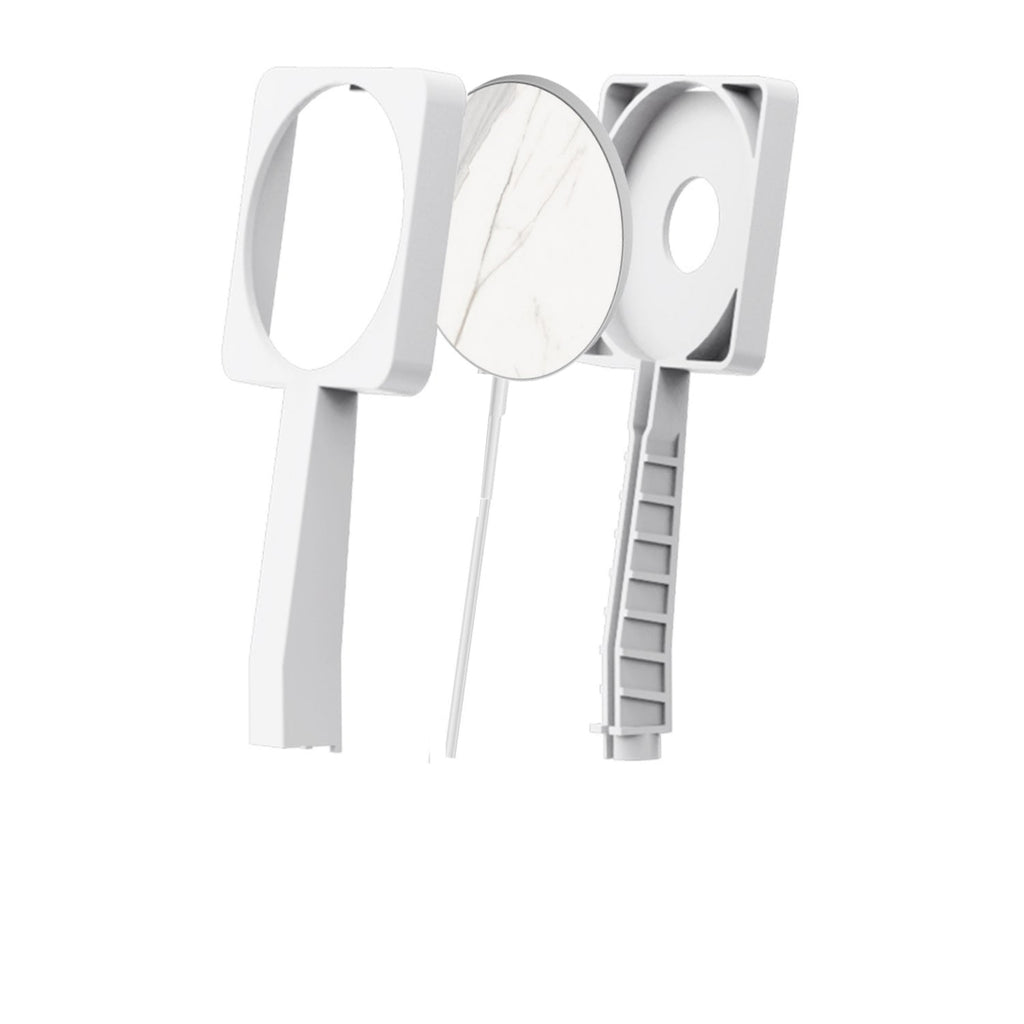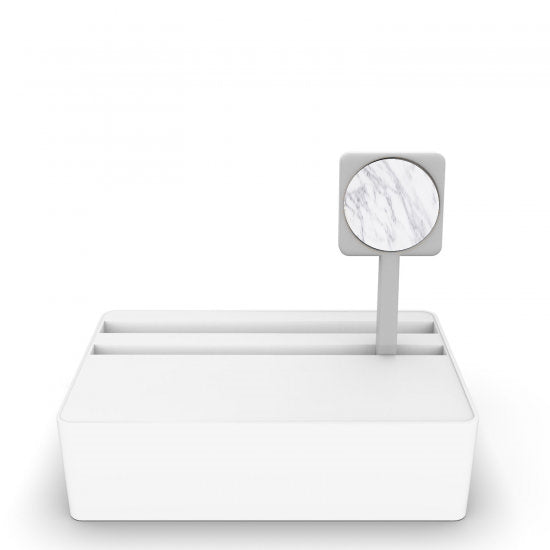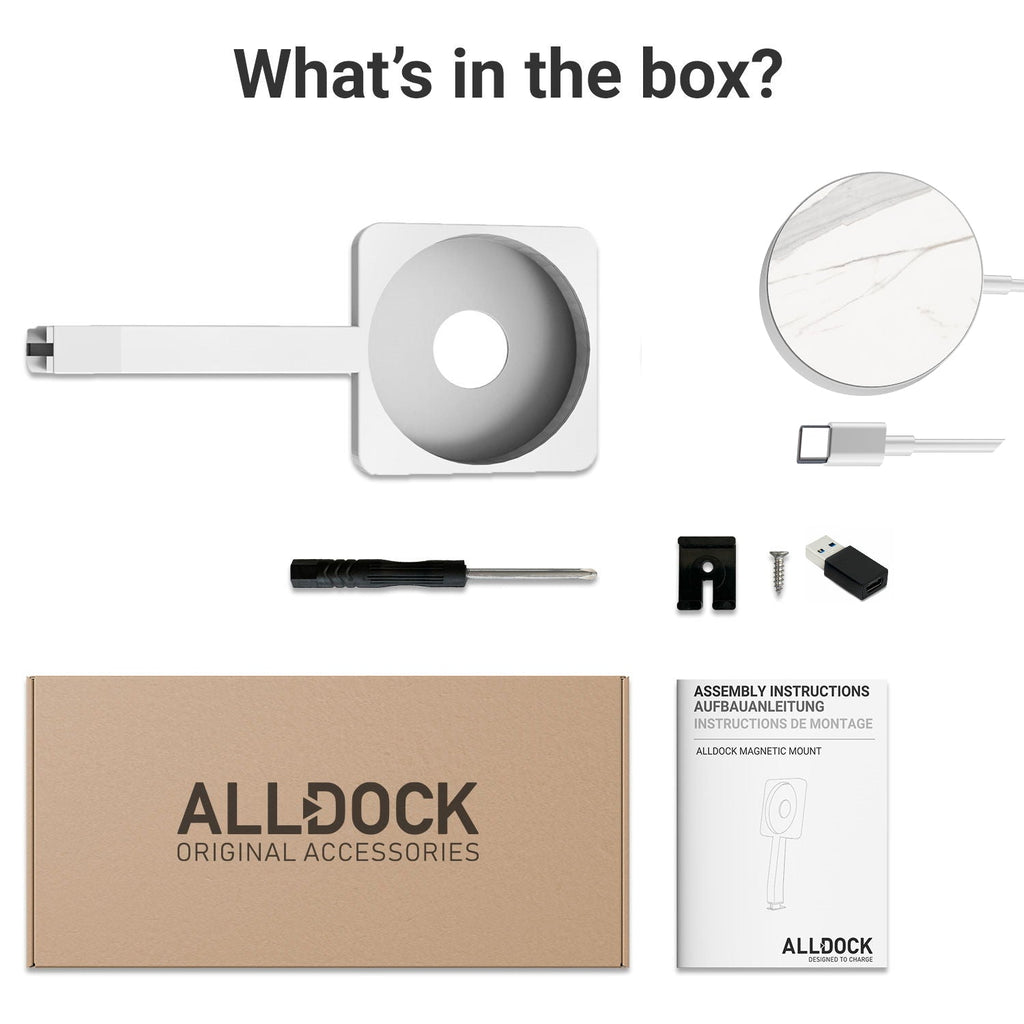 Apple MagSafe Compatible Magnetic Charger and Mount - White/White Marble
---
The ALLDOCK Magnetic Mount was specially developed for ALLDOCK charging stations. The set includes the ABS mount for the charging station and the ALLDOCK Magnetic Wireless Charger with MagSafe function.
This allows all ALLDOCK charging stations to be equipped with the latest Apple charging standard - even older ALLDOCK models. The strong magnets dock to your iPhone 12/13/14 or AirPod GEN3 / Pros 2 and provide faster wireless charging with up to 15W*.
Dimension
Width x Height x Depth
6.3 cm x 14 cm x 1.2 cm
Contents of package;
1 x ALLDOCK Magnetic Mount
1 x ALLDOCK Magnetic Wireless Charger (MagSafe)
1 x USB-A to USB-C Adapter 
1 x Mounting screw
1 x Screwdriver
1 x Assembly instructions
Innovative add-on for the Alldock charging Station
You can charge your Apple iPhone 12/13/14 or AirPod GEN3 / Pros 2 series comfortably and elegantly with our ALLDOCK Magnetic Mount. The magnetic mount allows for stylish charging. All you need to do is to dock your iPhone on the mount and it will charge alongside all your other devices in the ALLDOCK.

Charge your MagSafe device with the Alldock
Charging your iPhone 12/13/14 or AirPod GEN3 / Pros 2 is a breeze with the included magnetic charging cable. Simply bring the back of the iPhone close to the Mount and the magnet will automatically settle properly on it. The special feature: The Mount is mounted a little tilted in the ALLDOCK, making it even easier to use during the charging process.
Upgrade your older ALLDOCK charging Station
Especially for someone who owns an Alldock Classic charging station, it is totally easy to upgrade to the MagSafe standard today. Just install the Magnetic Mount, dock the new iPhone and charge it quickly.
*Total charge output is subject to power origin. 
Charge your Apple watch up to 6 times on the go!
Check out our portable charging solution for your Apple Watch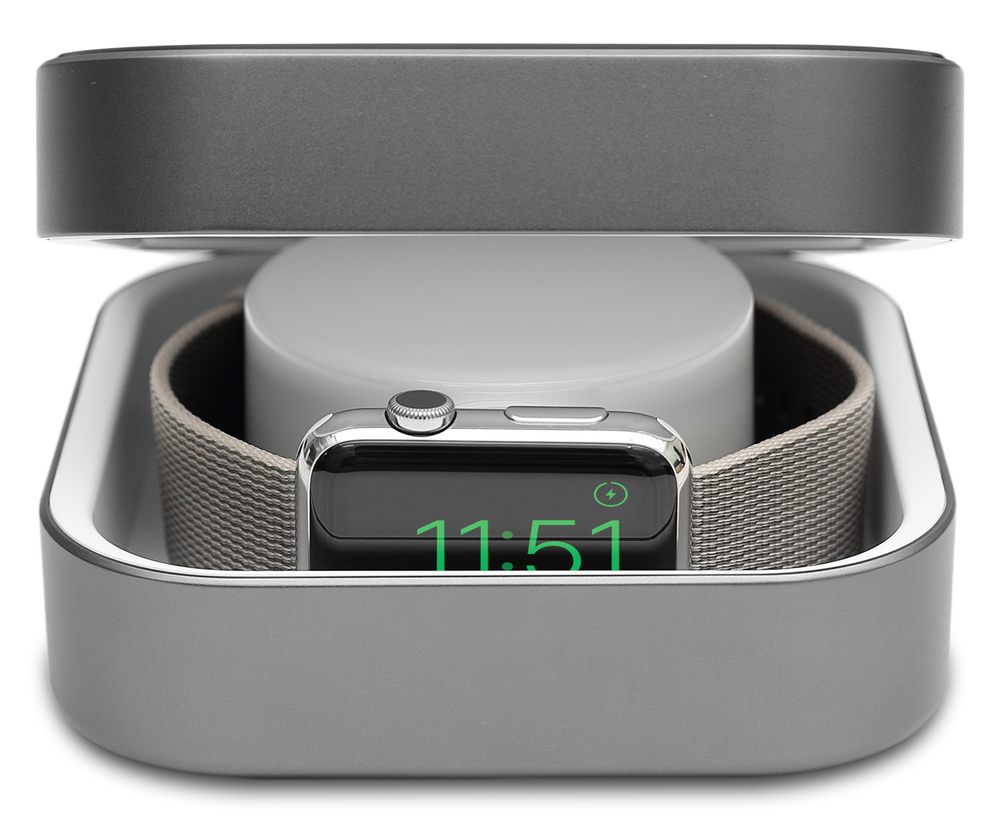 Shop Now